It is said that Canadian John McCrae was not the same optimistic man with the infectious smile after the 2nd Battle of Ypres. One can only try to imagine the scenes of desperation and horror, as Canada forged her reputation during those first gas attacks which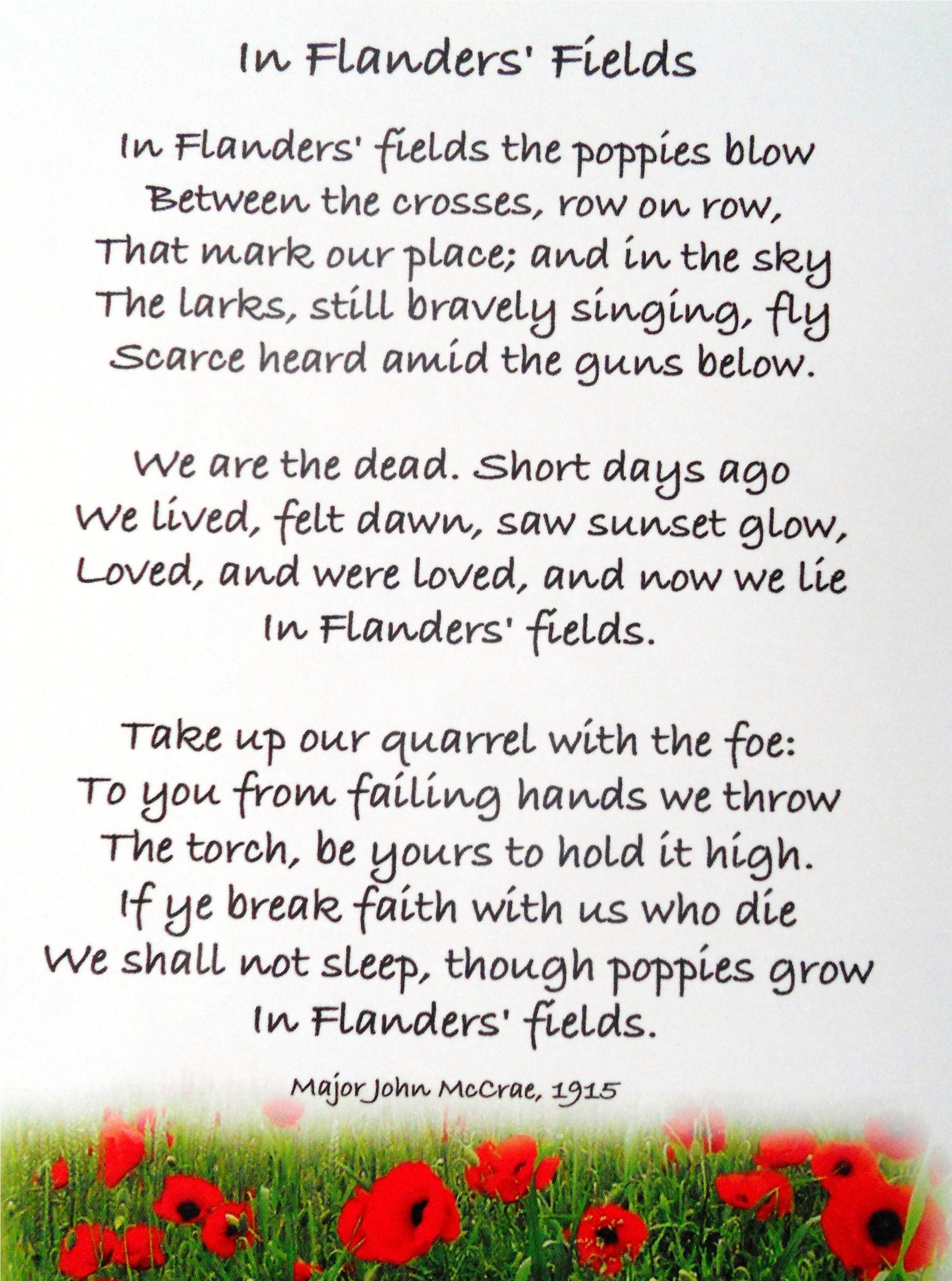 It is said that Canadian John McCrae was not the same optimistic man with the infectious smile after the 2nd Battle of Ypres. One can only try to imagine the scenes of desperation and horror, as Canada forged her reputation during those first gas attacks which opened the Second Battle of Ypres in April & May 1915.
As 2nd in command of 1st Brigade the Canadian Field Artillery, and based near Essex Farm Ypres during that intense period of activity., John McCrae would be inspired to write an enduring epitaph to the countless men who lost their lives during this titanic struggle. "In Flanders Fields" is synonymous with remembrance and the Great War, and probably the most quoted war poem of all time.
Essex Farm is located in Boezinge (modern spelling, previously Boesinghe) Ypres Belguim. Land to the south of Essex farm was used as a dressing station and cemetery from August 1915 – August 1917.
The cemetery was designed by Reginald Bloomfield (who also designed the Menin Gate) and contains 1200 burials. A large obelisk situated on a small mound towers above Essex Farm, dedicated to the 49th West Riding Division, their dead from the first phosgene attacks in Decmber 1915, are buried in plot 1.
John McCrae son of Col David McCrae and Janet Simpson Eckford was born on the 30th November 1872  at Guelph, Ontario Canada. Raised within a Presbyterian family, John McCrae was brought up with strong spiritual values and high principles. Described as warm and sensitive, he had a remarkable passion for people and animals, and it would be these character traits that would serve him well at Essex Farm. At the outbreak of the Great War John McCrae had a pathology practice which he set up in 1905, shortly after graduating from Toronto Medical School. Having served as an artillery subaltern during the Boer War he was not naive to the brutality of war nor to the carnage a modern war in Europe would bring, however the fear of stopping home whilst others were fighting was motivation enough to re-enlist.
"17 Days of Hades" – 1st Brigade Canadian Field Artillery 2nd Ypres.
On April 22nd 1915, John McCrae's unit the 1st Bde CFA had orders to move from reserve positions at Vlamertinghe towards Ypres. There they would await further orders to move into position near Brielen Bridge No.4 on the Yser Canal. This was one of the main routes up to the front lines described by one veteran as " A terrible place and reminded me of death, mud, fear and the abandonment of Christianity"
What was to greet John McCrae and the men of 1st Bde CFA en route to Ypres was a vision of apocalyptic nature. Desperate crowds of French Algerian troops some on horseback others on foot, and civilian refugees intermingled with transports of all description, surged along towards them as if returning from a football match. However the atmosphere was of a different complexion. Forlorn figures of civilian women, children and old men passed with looks of hopeless desperation for the want of divine redemption. Bloodied and limbless soldiers amongst anxious groups of retreating troops caste a wretched sight. Worse still many lay writhing on the road with foaming mouths and protuberant eyes, some with hands taut round their throats clawed in a frenzy of desperation. The Canadians could offer little in the way of assistance to this dejected horde of human suffering. The backdrop to this chaotic vision was the towers of Ypres, illuminated in the evening dimness by the numerous blazes caused by shells pitching into the medieval town.
If it wasn't obvious to the Canadian gunners at this point, earsplitting air bursts of  shrapnel shells which currently consumed the air above them, meant only one thing., a major enemy attack was underway and a sinister one at that. All routes to the front line would now be targeted by concentrated artillery fire in order to prevent reinforcement. Imagine at this point the anxious feelings that swelled within the witnesses to this spectacle of war butchery. The want to fight within most men is natural hence how war happens, however this want soon dissipates when confronted with the consequence. Whilst they awaited further orders each man now wrangled with his own conscience the overwhelming desire to head for safety. Comradeship forged in training would assist each man in holding his nerve but soon this would be tested in the furnace of battle; it would be a stern test.   Keeping busy John McCrae plotted positions for the guns should they have to deploy where they stood. However their directives would take them towards that inferno, and it was clear to all that Hades was upon them. 
In the early hours of the 23rd of April the Brigade moved to forward positions on the Yser Canal to support a French counter attack, here they would stay for seventeen days. Almost immediately they were in action under heavy gunfire the enemy being only 2000 yards to their front. Guns were dug in and what protection could be afforded from the canal bank was quickly exploited and soon became a rabbit warren of shallow dug outs all the while the brigade were subject to accurate prolonged shelling.
Here, in this exposed precarious portion of the salient; John McCrae would spend what he described as "17 days of Hades. A nightmare of the bitterest of fights". Over this period the Brigade would suffer higher than normal casualties, and be subjected to periods of almost constant shell fire of all calibers. Never knowing for sure how tenuous the French line to their front was caused extreme anxiety. The chances of being overwhelmed by the Germans was a constant threat which caused great mental strain.The angst within John McCrae led to a loss of appetite which at times led him to force food down even though suffering from nausea. That aside the constant din he found irritating which produced a feeling of anger as well as more apprehension. But like many he had no option but to carry on with the task at hand.
Monday, April 26th, 1915.
"Another day of heavy actions, but last night much French and British artillery has come in, and the place is thick with Germans. There are many prematures (with so much firing) but the pieces are usually spread before they get to us. It is disquieting, however, I must say. And all the time the birds sing in the trees over our heads."
Keeping busy would be the key to occupying the mind and McCrae would take any undertaking that came his way. He would attend the gun lines and await reports of casualties of which he would treat and prepare for evacuation overnight. Unfortunately the road from Ypres that ran parallel to their position on the canal bank, was shelled so heavily it was too risky for the Field Ambulances to evacuate the wounded. This inappropriate situation caused acute suffering to the soldiers involved. Many endured horrific head injuries which made their chances of survival non existent and so the Canadian plots filled rapidly. However the importance of supplying the Brigade with ammunition was a different priority and horses bravely ran the two mile gauntlet of fire along the road from Ypres. The road was lined with popular trees, ammunition columns striking up huge volumes of dust along this road made an easy target for the German guns, the enemy would even target the road just on the assumption someone would be on it. McCrae's eight foot by eight foot dug out was burrowed into the west side of the canal bank which afforded an ample view of the carnage that was that road. McCrae would shudder when he saw troops and horses on the road as he anticipated and watched the unfortunate bowled over and mutilated by shells. At night the moans of men and the screams of wounded horses would carry over and make for the nightmare existence he so described.
I should not give the impression that all was one sided and that the Brigade were just hapless victims of a wretched situation. The return fire from the Brigade guns was perpetual; to an extent that the Canadians were forced to use sacking in which to operate gun levers, such was the heat. McCrae certainly felt that they had given as good as they got and what is certain the Germans did not break through. Scores of German attacks with preliminary accurate bombardments of high explosive, gas and shrapnel were driven back with the support of the Brigades guns time and time again. Whilst this period was of intense hardship for the Canadians those on the offensive would be certain to be suffering to a higher degree. To keep launching attacks and be constantly repulsed would have been harrowing. Envisage for a moment been involved in such attack., if in fact we possess the ability to conceive such things without first hand acquaintance.  Knowing the consequence; the pain, the suffering; then imagine the internal torment as one waits to go in to the fray once more, perceptive of things to come. Would you advance with the same fortitude? Would you gaily spring forward to what awaits as some memoirs would lead us to believe? or would you hang back and go through the motions, and let the natural instinct to stay safe take over? The Germans certainly had it tough, and once the first surprise attack with gas had been repulsed and the initiative lost, that initiative was unlikely to be regained. However it would take extreme gallantry and fortitude on behalf of the defenders in which to wear down the German attacks over this period.
On May 9th the Brigade left the line, John McCrae picked up his horse Bonfire who he had left in the care of his groom at a farm yard further to the rear, and rode the sixteen miles to billets and out of the firing line. Although extremely fatigued the Brigade were glad to be clear of their experience at Essex Farm. McCrae was informed that they would return to the line very soon but he was unperturbed, for he believed that no place could be worse than where he had just come from. For John McCrae however his destiny was to be No. 3 General Hospital at Boulogne, posted there June 1st 1915 he would never serve at the front again. Parting from those who he had bonded with through the ordeal at Essex Farm would prove as demanding as the tribulation that was "17 Days of Hades". However orders were orders and McCrae would utilized his medical skills at Boulogne.
The experience of that time on the Yser Canal although short would leave an indelible mark upon John McCrae. It was said his desire for solitude was sought around the roads and lanes of Boulogne with his horse Bonfire and dog Bonneau. His gaiety now subdued was often replaced with periods of irritation and his youthful looks were gone. However lets not forget that whilst at Boulogne the impact of war would be ever present; as the great struggle continued casualties soon became unremitting. That, combined with chronic asthma continually aggravated by living and working in such an extreme environment, would augment such moods and ageing previously stated.
John McCrae was a Gunner by heart and no doubt he longed to be with his battery, certainly no battle honours could be won at No.3 General Hospital Boulogne. But this unsung and valiant work which like many jobs in the rear whilst unrecognized was paramount to the war effort, and indeed saved many thousands of lives. What is certain about the service given by John McCrae during the Great War was that it took its toll, and ultimately cost him his life when he succumbed to pneumonia on the morning of the 28th January 1918. He would pass from this world not knowing whether the torch thrown from failing hands would continue to be held high, of if indeed the reward of victory would be theirs.
It would take another 10 months of horrific casualties to ensure victory indeed would be theirs, John McCrae and "In Flanders Fields" would become synonymous with the Great War and the cost that is war. Published in the December 1915 issue of punch, there are many legends as to why McCrae wrote this poem, however all agree it was written during the period at Essex Farm. Its more than probable that it wasn't a specific event on the Yser Canal that inspired McCrae to compose it, after all McCrae had studied poetry for many years. At Essex Farm when time allowed, poetry would have provided a distraction from the nervous tension. What is certain, is that "In Flanders Fields" is the profound thoughts of a man thrust into the crucible of a war that is now out of living memory, sights, sounds and fears of "17 Days of Hades" condensed into fifteen lines.
It will soon be 100 years since that experience at Essex Farm yet John McCrae's "In Flanders Fields" resonates still, in perpetual remembrance of the sacrifices of that generation.